Usually I don't do New Year's resolutions
. I can never keep them, so what's the point? This year, however, Nick and I made a few resolutions on New Year's Eve because we were recovering from the flu and were hopped up on cold medicine, therefore not quite thinking clearly. By far the most difficult one to keep was to give up our beloved caffeine.
Do
you
need
to
be
reminded
how much we are in love with Starbucks?
The first few days of being without caffeine, also known as detox, were pretty awful but we made it though. The following Sunday we broke down and went back. We agreed it would just be our little Sunday indulgence. I mean, at least we were going from seven days a week to just one, right? The next week we really started working hard on our house, one night painting until the wee hours of the morning. We were so tired the next day that we decided we deserved a latte.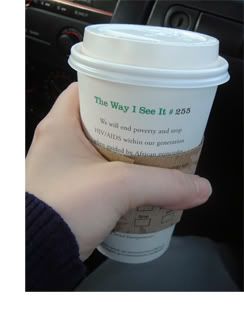 And then over the weekend, we hit up good old Starbucks on Saturday AND Sunday, masking it again with the excuse that we needed it because we were spending the day working so hard around the house. I can now totally understand why alcoholics need something like AA to get them through their addiction, because when left to our own devices we cave in an instant.
This all brings us to this morning. We went to the kitchen on our way out the door to grab something for breakfast, but we haven't been grocery shopping in a while so we had nothing to eat. What were we to do?
I'll tell you what. Go to Starbucks where we could get a tasty liquid breakfast. This is where my story finally gets interesting.
As soon as we walked in the door, the manager told us that they were starting a new promotion today where they would feature a customer's drink on the board. All the baristas gathered around this morning trying to decide who they wanted to use, and they thought of us first. (Can you sense how proud I am?) Immediately someone whisked us away to take our picture, made us our drinks and gave us a special card. The card says that all this week when we go to Starbucks and order our featured drinks, we'll get them for free. The only thing missing was the ticker tape raining from the ceiling, and maybe a giant oversized cardboard check.
I'm left wondering if anyone will actually read our suggestions and there will be a spike in sales of grande nonfat extra-hot chai tea lattes with five pumps of chai and no water, or grande nonfat extra-hot mistos with four pumps of white mocha. We could become major celebrities among both the suburban yuppie and soccer mom audiences. Just think of the exposure.
Regardless, I guess I know where we'll be for breakfast, lunch and dinner for the next seven days. As for our New Year's resolution, hey, at least we tried.