First Thing
On Friday night, Nick and I met up with my brother and sister-in-law and most darling little niece for dinner. I can't believe how cute and funny she's getting. She definitely has a thing for Nick, which was pretty evident when I was carrying her out to my brother and sister-in-law's car. Nick went to get our car and meet me in the parking lot next to theirs for our goodbyes. I took the baby over to
Kenneth
's open window so she could get her kisses from Nick. Then I gave her back to her mother and went in for my own kisses. Everytime I even got close to her, she moved her head trying to see around me to where Nick was in the car. If she could talk, I'm sure she would have said something along the lines of, "Get out of my face, WOMAN, I can't see him!"
While it is kind of cute to see her very obvious love of Nick, it is also annoying because I'm her cool aunt and she needs to give me kisses, dangit!
Second Thing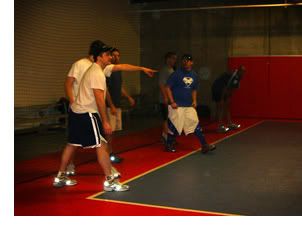 Remember me mentioning Nick playing
dodgeball
? The last time was in preparation of the big tournament, which started Saturday morning. I thought he'd be playing with his old
kickball
teammates, so I was excited that I would actually know people and would have other spectators to watch with. But there was only like one kickball friend and the rest were all new. No worries though, I still had a blast watching them win.
They played three different games against three different teams, and each game is made up of three matches. Are you following? So basically whoever wins two out of three matches wins the game. And the team who wins the most games moves on to the next level of the tournament. I'm proud to say that the
Mute Banshees
will be playing again next week.
It was incredibly suspenseful. In the very last match of the very last game, Nick's team HAD to win to move on. Everyone got out and he was the last one in the game, up against three people from the other team. He caught it once and threw the other two people out and it was really pretty amazing. Never thought I'd have that much adrenaline running through my veins because of SPORTS of all things, but I did. And shhhh, don't tell him that.
More dodgeball pics at
Flickr
.
Third Thing
After the dodgeball tournament Saturday morning, we got Nick all cleaned up and smelling as good as can be expected out of him. Then we were off to the park because it's finally beautiful around here and we are going to enjoy it no matter what.
More spring-ish
park pics
here. Please disregard the blinding paleness. Thanks.
Fourth Thing
We did a little bit of shopping in a cute little area of Kansas City that we like to frequent. I had some packaging research to do for work, so we found ourselves in a quaint little wine and spirits shop. I ran into an old college friend who now manages the place, so we caught up a bit. And there was some sort of March Madness beer tasting competition going on, so Nick enjoyed watching the game while sampling eight different free beers. And I enjoyed checking out all of the great alcoholic beverage packaging. For work, I promise!
Fifth Thing
After my latest
robot post
, Nick and I decided surely the two of us could also somehow build ourselves a robot. I mean, how hard could it possibly be? We set off for the thrift stores, where we found a lot of great treasures, including these awesome drink coozies. Sadly, we didn't come home with anything but robot parts.
Check out some other thrift store treasures that we also didn't buy at
Flickr
.
And now for the moment we've all been waiting for, I'd like to introduce you to Leotron 3000, our new robot. We made him from bits and parts in one night only, and he's just adorable. I
drove
Leo from home to my office where he is now displayed.
See the behind-the-scenes photos of how Leo was made
here
.
The funny thing is it's a day later and we've already been back to the thrift store and bought a trunkload of more robot parts so we can make some more. I think we'll start selling them in a few little shops around the city and on eBay, so if you want one, be sure to let me know.
Pseudo-Things
We rounded out our weekend with some house-cleaning, a family birthday party and me going into the office to work, but you don't get any pics of that. Sorry.
So, what did you guys do this weekend?