I wish I lived in Chicago so that I could have seen these on a regular basis.
First off, we have
Moo & Oink
, a dancing cow and pig who like to sing about meat. But seriously, who doesn't like singing about meat?
The next frightening commercial is of
Eagle Man
, a giant creepy eagle who lands on top of the car of two unsuspecting women with large hair and craps out some car insurance for them. It's a good premise, but it must have gotten lost in the execution.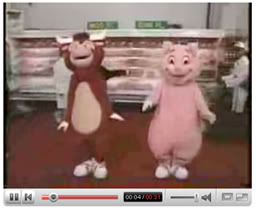 If you missed them, more bad commercials
here
and
here
.