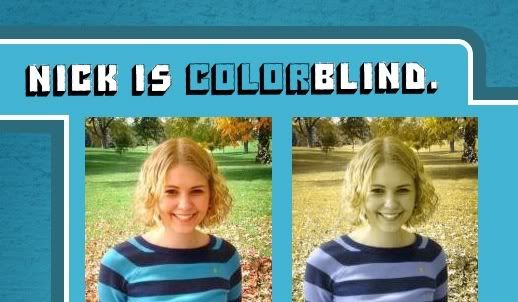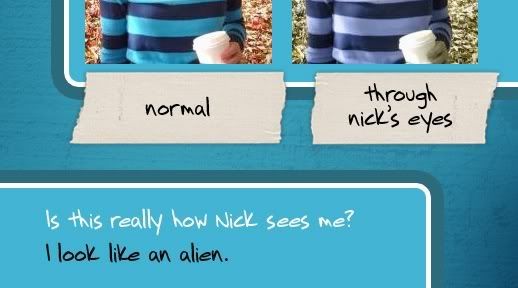 Nick is colorblind, like many of his brothers, and since I've known him I've always been quite fascinated by it. For me, color has always played such an important part of my life. It's a part of my passion and a part of my livelihood (and yes, I know there are colorblind graphic designers out there). I just can't imagine not seeing the world the way I'm accustomed to seeing it now.
And then I met Nick. I know he doesn't see things in the same way I do, and it's quite a challenge to remind myself of that sometimes. I know he gets red and green confused, but I always wonder if he sees red as green or if he sees green as red. To him, is grass really red and that just seems normal?
He gets green and brown confused, he mixes up yellow and orange sometimes, and purple and blue seem to be a lot the same. Even though I know that, I always wonder what EXACTLY those colors look like to him. I constantly quiz him about what colors things look like. I guess I think that I'll understand him better, that I'll learn to translate what I see into what he sees. Of course that never works because to him, his red is red, his green is green, and he can't fathom what my red or my green look like anymore than I know what his looks like. It's just impossible to compare.
I found
this website
a few days ago though. You upload a photo and it simulates what a colorblind person sees. Immediately after I tried the first photo, I got a sinking, almost sick, feeling inside. I couldn't believe how different things look through Nick's eyes because I've always imagined it much more similar to what I see. I'm addicted to this site now. I keep uploading more and more photos, trying to understand what Nick sees, and each time I'm just floored.
Check it out
, and if you're a nerd like me, you might enjoy reading more about colorblindness
here
.