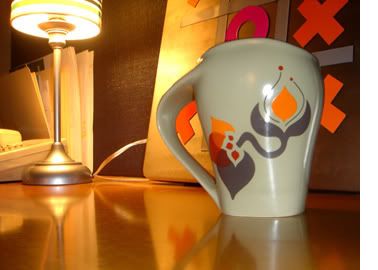 Get it
here
.
Although I love me some caffeine in just about any form, you are probably shocked to hear that I am not a big fan of coffee. I can make myself a latte at our upstairs ginormous espresso bar at work, but I only put half a shot of espresso in my drink and then I add a random spattering of just about every flavor of syrup that we have in stock. The problem is that it's hard to feel very chic and cool when you are making a latte suicide of sorts.
Because of that, it's very rare that I go upstairs to make my appearance at the espresso bar. Instead, I prefer to nonchalantly make myself a mug of hot chocolate or hot tea in our floor's galley. No one has to know. No one gets hurt. I walk around with this bad boy in my hands, and everyone is so busy admiring how cool it is that they don't notice that I haven't yet graduated to adult taste buds.
So let's hear it. Do you have a favorite mug, or are you say, a little more promiscuous when it comes to drinking hot liquids? I'm considering taking my mug home with me on the weekends so that we don't have to be apart.