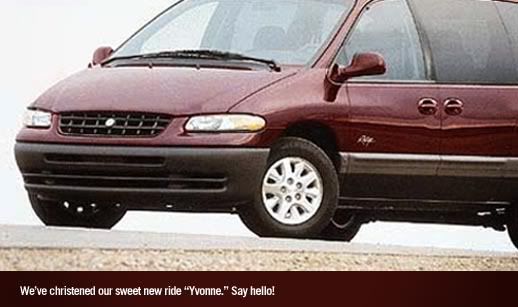 Oh yeah, we've got ourselves a sweet new (temporary) ride. Thanks, Mom and Dad! We used it for the first time last night, and wow, she rides like a dream. And is quite cavernous and spacious. Since we enjoy
naming inanimate objects
, we decided she should be Yvonne. And also since we have recently become
street thugs
, we actually refer to her as "Y to the Vonne."
On the way home from work, we were testing out my parents' programmed radio stations and decided to rock out to the Oldies, to better play the part of mini van drivers, of course. Aretha Franklin's "Respect" was the song that was quite appropriately on, so we sang it to the passing cars. Even if we ARE in a mini van, we demand a little respect on the roadways. (And don't worry, Mom and Dad, even if Nick was dancing, which I'm not saying he was, he still had his hands on 10 and 2.)
Also, having a mini van for the evening did allow me to hit my all-time low of dorkiness, which I thought would be hard to do. We decided we needed to cruise to Sonic for
blended root beer floats
. Of course I'm already in my sweats for the evening, but that's no problem. We load up in the van, in our sweatpants, and me with
these stylin' slippers on
. I am also wearing a heated neck wrap because I was kind of cold. And yes, I left the house and entered the public domain in this outfit. In a mini van.
I feel really sorry for the poor carhop who had to bring our ice cream out to us, because I think I scared her into never aging past 17 years old.