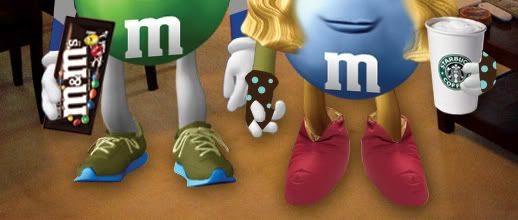 Perhaps you've seen the commercials for
making yourself into an M&M
. It's pretty creepy, isn't it?
I was disappointed to find out that they didn't have
brown and blue fingerless gloves
as an accessory for the M&Ms, nor could they hold a Starbucks latte or wear stylin'
foot duvets
. Not to worry though, I took matters into my own hands and fixed our M&Ms appropriately in Photoshop. Nick doesn't really eat M&Ms all the time (although we are both big fans) but I just thought it was funny.
I also added us into the one scene where we spend almost all of our time. Sadly, that scene would have to be our living room. Oh yeah, and in case you were wondering, we typically do wear pants around the house. Now you can stop wondering about stuff like that. Weirdos.