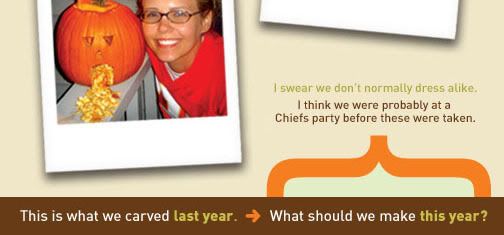 So I was looking at
this site
to get some ideas for our pumpkin this year. First off, I'm humbled by
this puking pumpkin.
Way better than ours was last year. And here we were thinking we were being original.
This year we need to step it up because last year's performance was definitely lackluster. If we can't come up with any cool ideas on our own, we are flat out
stealing
becoming inspired by ideas from other people. I think
this one
is cute. I also think we could pull
this one
or
this one
off.
This
made me smile, and
this
made me laugh out loud. Seriously, we could never do that with little kiddies coming to our door! Props to
this one
for its great creativity.
In the realm of things we aren't the least bit talented enough to do, check
this
and
this
out. Both via
Boing Boing.
Now I'm turning to you. What do you think we should carve?