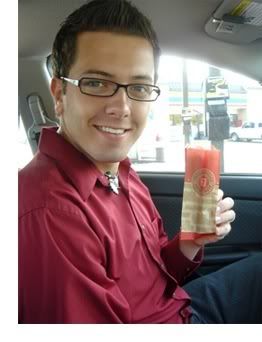 The other day we had to stop and get gas on the way to work. We stopped at 7-Eleven and oh thank heaven, they had a promotion for a free taquito with any gas purchase of $10 or more.
Nick was more than thrilled as he got out and went inside to track down his taquito. He was like a little kid who was just told he could have ice cream for dinner and could play video games past bedtime. I don't even think he was hungry (we had of course just visited Starbucks), but I think he was just so excited because it was magically free.
And you know there's nothing better than the smell of a taquito in the car at 9 in the morning. That'll wake you up and clear the sinuses, that's for sure.