Our most recent infatuation is our own take on McDonald's Egg McMuffins, what we like to refer to as the Egg NickMuffin™.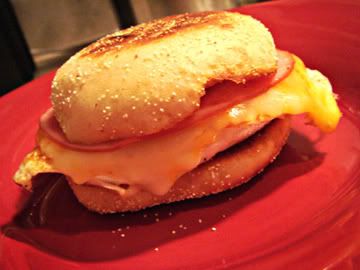 This delectable treat can be consumed for breakfast, lunch and/or dinner. In the last two weeks, I think we've had this probably at least 7 or 8 times. We've experimented with straight-up Egg NickMuffins™, Ham NickMuffins™ and Turkey NickMuffins™. Also, swiss, cheddar and colby jack cheeses have made their appearances, in no particular order.
Nick, who is our resident chef (mind you, I use that term loosely) is getting the NickMuffin™ preparation down to quite a science. It's really quite amazing to watch him in action. Last night I just sat on the counter and observed the master at work. You probably don't know this, but there is a very specific order and process to the making of a NickMuffin™. And it's best to just stay out of the way, for your interference will only throw the process off.